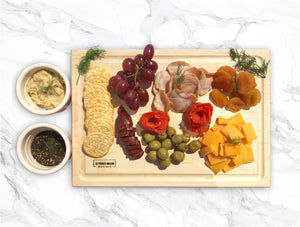 LARGE Maple Wood Cutting Boards for Kitchen 14x10 - Great Butter Board
LARGE Maple Wood Cutting Boards for Kitchen 14x10 | Hardwood Butter Board that serves as a Wooden Block for your Kitchen
★ SUPERIOR QUALITY - WILL NOT CRACK OR WARP LIKE BAMBOO
★ ANTIBACTERIAL, HYGIENIC & CLEAN
★ SUSTAINABLE & HANDMADE IN USA
★ FANTASTIC WORKMANSHIP 
★ 100% MONEY BACK GUARANTEE
Description
OUTSTANDING QUALITY - WILL NOT CRACK OR WARP LIKE BAMBOO - Solid Maple wood cutting boards have a dense structure and self-healing abilities, so it lasts much longer than bamboo and are gentle on your knife. Our chopping blocks are made of Natural Sugar Maple Wood which is one of the best types of maple wood. Moreover we carefully limit the pieces of wood used to a 3 inch width since wider pieces of wood tend to warp with time. These pieces are glued together using FDA approved food grade glue.

GENTLE ON YOUR KNIFE – WILL NOT DULL YOUR KNIFE – Unlike bamboo, Maple Wood is easier and GENTLER ON YOUR KNIFE and protects blade from dulling. This board will not crack, splinter or warp, because is made of robust and strong maple hardwood. We also finish the wood cutting boards with a mineral oil which gives them a nice look and helps preserve them.

ANTIBACTERIAL, HYGIENIC & CLEAN - The National Sanitation Foundation (NSF) approves Maple for commercial kitchen use. Maple wood is self-healing since it absorbs left over bacteria and kills them by depriving bacteria from oxygen. Unlike other standard carving board or butcher blocks that fill your kitchen board with bacteria affecting you and your family. Be safe and protect your loved ones: get a Maple Wood cutting board!

SUSTAINABLE & HANDMADE IN USA - abundant in North America, solid American Hard Maple wood (or simply Sugar Maple) are responsibly sourced and when cut, the trunk stock or seedlings are left so they can regrow making it a sustainably sourced American wood. The hardwood maple is ideal for wood cutting boards since it is denser than silver maple and big leaf maple.

FANTASTIC LOOK, REVERSIBLE & MULTIFUNCTIONAL – GREAT GIFT - Premium craftsmanship with rounded radius edges and an oil rubbed finish perfect for entertaining indoors or outdoors use. We have also included a drip edge around the contour of the carving board to collect your food juices and keep your board clean. It is also reversible and multifunctional, as you can use it for cutting, chopping or as a cheese serving tray – on barbecues, wine and cheese nights or on daily cooking routines.

100% MONEY BACK GUARANTEE and EXTENDED WARRANTY – We are so confident YOU WILL LOVE IT. If for some reason you do not, we guarantee a full refund. We also offer you a 3 months extended warranty upon registration when you receive your board!
Fall in Love with Cooking – Like us
The Kitchen Board Maniacs brand was born from love. Love for cooking, for the family and the planet. So we make a maple wood cutting board that is a fantastic board for your kitchen! It is made of American maple wood that is sustainably sourced and with great quality and care. It has such a nice look and is perfect for cooking for your loved ones.
Reversible & Multi-Purpose Designed Carving Board
This wooden block is designed for several uses: Slice, Dice, Chop, and Serve or even décor your kitchen. On one side you can Slice & Dice your meats or vegetables, with confidence that no juice will spill. On the other side of the board you can chop vegetables or use it as a nice cheeseboard or cheese tray for your guests, making this an ideal kitchen board.
Outstanding Quality Butcher Chopping Block
Solid Maple wood cutting boards are made of Hard Rock maple (or simply Sugar Maple), which is denser than silver maple and big leaf maple. So it is made to last long because they are made of natural Maple wood and finished with mineral oil, which helps to preserve it. They last way much longer than bamboo and don't dull your knife, due to its dense structure and self-healing abilities.
Round Radius Edges & Drip Edge
The boards are designed with smooth round radius edges to ensure you and your family's safety. The boards have also been grooved with a drip edge perimeter to collect all the juices released by your meats. This groove ensures your board stays nice and clean throughout your use of the board.
The cutting boards are designed with smooth round radius edges to ensure you and your family's safety. Beautifully designed chopping block.
Thick & Resistant Cutting Block
The chopping blocks are purposely crafted to 1 inch so that they don't crack and can last you a lifetime. They are offered in 2 sizes; a large wood cutting board 14x10inches or 12x9 inches and are 0.75-1 inch thick.
Perfect Gift for Any Occasion
If you are not sure of your gift, The Kitchen Board Maniacs cutting board is the solution. This cutting board is perfect for any occasion whether it is for Thanksgiving, Christmas, Mother's day, Father's day, Anniversary, a house warming gift or any other occasion.
The beauty of the maple wood is that each cutting board is unique with natural wood grain. It is easy to care, just hand wash with soap and water, towel dry.