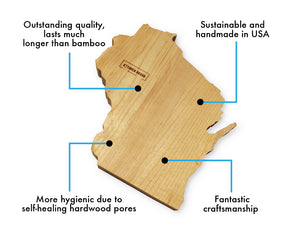 WISCONSIN Home Cutting Board and Butter Board & Wisconsin Gifts, Home Decor and Souvenir Made in USA
WISCONSIN Home Cutting Board & Wisconsin Gifts Made in USA | Wisconsin Home Decor Souvenir Serving as a Chopping Block or Cheese Tray
OUTSTANDING QUALITY Wisconsin Gift - WILL NOT CRACK OR WARP LIKE BAMBOO - Solid Maple wood cutting boards have a dense structure and self-healing abilities, so it lasts much longer than bamboo and are gentle on your knife. Our Wisconsin chopping boards are made of Natural Sugar Maple Wood which is one of the best types of maple. Also we carefully limit the pieces of wood used to a 3 inch width since wider pieces of wood tend to warp with time. The pieces are glued together using FDA approved food glue.
ANTIBACTERIAL, HYGIENIC & CLEAN Wisconsin Cutting Board - The National Sanitation Foundation (NSF) approves Maple Wood Cutting Boards for commercial kitchen use. Maple wood is self-healing since it absorbs left over bacteria and kills them by depriving bacteria from oxygen. Unlike other standard carving board or butcher blocks that fill your kitchen board with bacteria affecting you and your family. Be safe and protect your loved ones: get a Wisconsin Wood cutting board!
SUSTAINABLE & HANDMADE IN USA Wisconsin Gift - abundant in North America, solid American Hard Maple wood (or simply Sugar Maple) are responsibly sourced and when cut, the trunk stock or seedlings are left so they can regrow making it a sustainably sourced American wood. The hardwood maple is ideal for Wisconsin wood cutting boards since it is denser than silver maple and big leaf maple.
FANTASTIC LOOK, REVERSIBLE & MULTI-FUNCTIONAL – GREAT Wisconsin GIFT - Premium craftsmanship with rounded radius edges and an oil rubbed finish perfect for entertaining indoors or outdoors use. This board is multi-functional as you can use as a Wisconsin decor, souvenir, for cutting, chopping or as a cheese serving tray – on barbecues, wine and cheese nights or on daily cooking. Also is a perfect kitchen gift for Texans.
100% MONEY BACK GUARANTEE and EXTENDED WARRANTY – We are so confident YOU WILL LOVE our Wisconsin Cutting Board. If for some reason you do not, we guarantee a full refund. We also offer you a 3 months extended warranty upon registration when you receive your Wisconsin chopping board!
GENTLE ON YOUR KNIFE – WILL NOT DULL YOUR KNIFE – Unlike bamboo, Maple Wood is easier and GENTLER ON YOUR KNIFE and protects blade from dulling. This board will not crack, splinter or warp, because is made of robust and strong maple hardwood. We also finish the wood cutting boards with a mineral oil which gives them a nice look and helps preserve them.
Description
Wisconsin Home Gifts & Souvenirs & Wisconsin Chopping Boards
Enjoy Great Days in Wisconsin Home! Beautiful cutting board shaped like Wisconsin, to remember the State while you enjoy time with friends, making dinner or as a gift. Remember warm sunny days in the outdoors or exploring vibrant cities. This Wisconsin home decor is hand crafted in the US from local maple wood, all natural.
Unlike laminated bamboo boards this is solid hardwood, with beautiful grain and excellent for food prep. This Wisconsin Maple cheese board is perfect for a welcome and thoughtful gift for Wisconsinites. Pleasing to the eye with curved edges and rounded corners, smooth oil-rubbed finish; it feels so good to touch and use. Excellent Gift, Styled to Appreciate. Give the gift of memories that they are sure to use and enjoy. This Wisconsin cutting board is a great gift choice for Christmas, Father's and Mother's Day, anyone who appreciates fine craftsmanship. It is a perfect cheese tray welcome gift for Wisconsin housewarming, retirement, good-bye, perfect for weddings, birthdays and newcomers. Snack-sized board sized for easy use, just under 9 inches long from Illinois border to the Apostle Islands and 8 1/2 inches wide from the Door peninsula to the Minnesota border. Use the Wisconsin block at home for cheese and crackers, veggies, spreads and snacks.
We hand craft beautiful Wisconsin wooden boards using sustainable, locally harvested maple and wood. Beautiful artisan-made items, perfect for you and excellent Wisconsin gifts.
•- Wisconsin Cheese board is easy care, just rinse off and coat with mineral oil every month or two.
•- Fantastic workmanship – Wisconsin shaped, made in USA.
•- Long lasting, durable.
Each Wisconsin wood cutting board is unique with rich wood grain, a warm addition to your décor. Is smooth and beautiful, a conversation starter. Great Wisconsin Gift & Home decor – use for cheese, humus, jam or fruits